Learn how to operate a farm business.
Degree requirement: no degree required
Semester: Spring, fall
Program length: May 6 - November 17
Format: In-person
Estimated Cost: $3,500
More detailed information below.
This program will be an extended version of our summer internship where participants will be working together to run the Sustainable Student Farm. Participants will be paid 20 hrs/wk for working on the farm.
This is a non-degree, in-person certificate program. This program will cover a topic each week, learning about different aspects of running a vegetable farm and learning about issues that impact farmers and the food system at large.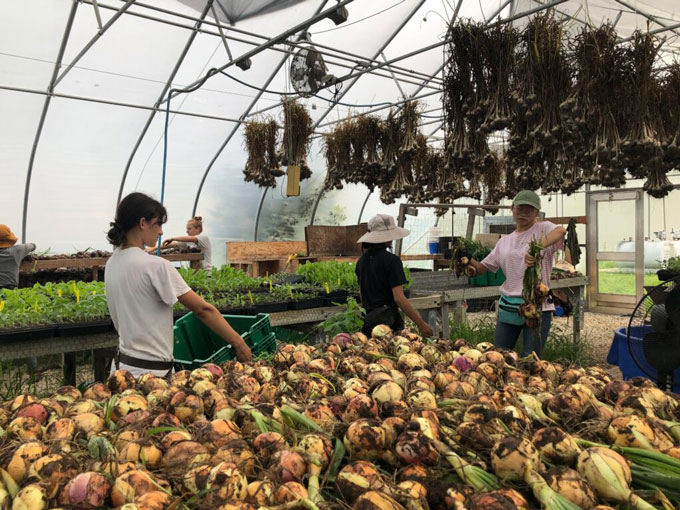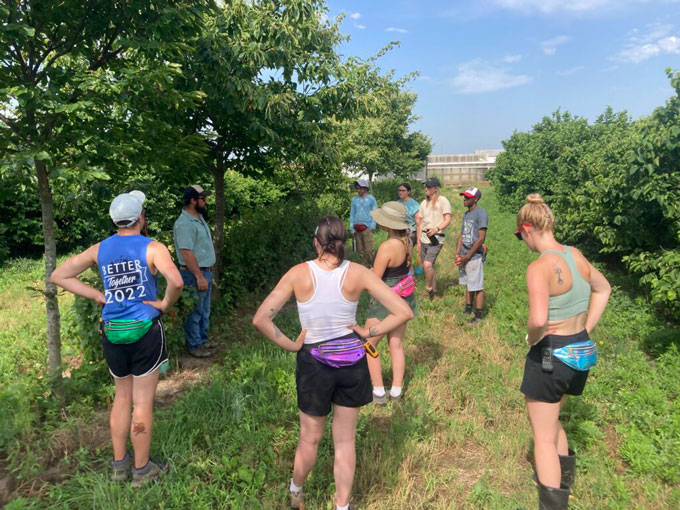 Program Highlights
Format

We will cover everything from how to grow vegetables from seed to market, to the business and people management skills that you need to run a vegetable farm.

This program will gain you much of the same knowledge that you get in our Small Farm Manager Certification Program but is a little bit more supported and has a shorter time frame.

Due to this shorter time frame, this program will not allow for as much experience in some of the important off-season processes but will still get a lot of the info.

Participants will be paid 20 hrs/wk for working on the farm in the mornings to learn all the hands-on and physical skills necessary to run a vegetable farm.

We will do a weekly farm walk that we will use in combination with our planning documents to develop our weekly priorities

Participants will rotate through different management roles on the farm, including managing our farm stand, our CSA, our online store, our record-keeping, outreach/marketing, food safety, and later in the season Farm Lead.

We will have a weekly learning Module each week that will cover the different elements of caring for vegetable crops, soil, water, and people while building an organizational structure to run a successful farm business. These modules will usually include a reading a lecture and an activity of some kind.

We will go on field trips to local farms and food organizations.

Participants will develop and implement the fall crop plan for the SSF.

Participants will develop a farm and business plan for a future/dream farm.
Learning Outcomes

Develop business plans and structures that will set farms up for success in the markets of their choice. 

Understand the social and environmental context and consequences of agricultural practices in order to make informed decisions on how they would run a successful and conscientious agricultural business.     

Draft farm planning documents to support a smooth growing season. 

Implement farm planning and record keeping documents to improve farm operation. 

Develop an awareness of, and begin mastering, the physical and organizational skills to work on and operate a farm  

Understand the principles and practices of how to keep plants, soil, people and ecosystems on and around your farm healthy  

Develop awareness of Eco-systemic thinking in your farm system and your place in the greater community  

Build connections with local food system organizations. 

Demonstrate efficient task management based on physical and operational systems 

Understand how to effectively develop and maintain records to evaluate the success of the operation
Career Possibilities

Advance Your Career

Running a farm requires a wide range of specialized skills, if you are looking to work in local food networks you will benefit from any number of the skills that you will develop in the program.  If you are looking to start a new career in food production or are interested in expanding the skills you already have, this program will teach you tools to use in the field, in the office, with your staff, and at the market.  These tools will help you to be able to operate a farm business or become an invaluable team member in an already existing organization.

Areas of Employment

Farmer
Farm Manager
Food Access Organizations
Farmers Market Manager
Local Food/Farm Support Organizations
Garden Coordinator
Food production and processing
Please send a cover letter, and a resume by March 30 to our program director, Matt Turino illinois-ssf@illinois.edu.
Your cover letter should describe why you are interested in the program and what skills and experience you would bring to it.